Join Parkinson's Art for 'Vivid Dreams'
This week sees an exciting exhibition open to the public at London's OXO Gallery by artist with Parkinson's, Claire spoke to Trevor Woollard, whom some of you may have met in Parkinson's Art's "Creative Zone" at the Sport Parkinson's Summer Try-Athlon in July. 
The team had been spending Monday morning packing all the paintings and exhibits into transportation and were taking a well-deserved rest before curating the exhibition onsite when we spoke to Trevor
"The last couple of days have really been about collecting all the artwork together. Get it ready, curated for the show which opens the public on Wednesday the 18th, and also getting the online site ready so that the virtual  gallery can be  launched at the same time on the 18th. 
"The Exhibition is at the Oxo Gallery from the 18th to the 29th of August. Open daily from 11:00 AM till 6:00 PM and it's free admission to everybody.
"We've got around 60 artists renting out their works, with nearly 80 pieces of work on show and the exact replica online. This is so that people who can't make it to London to the Gallery can still view it anytime during that period – with the same experience as far as possible
"The exhibition started when we applied for the British Art Council's funding – and that's really to raise awareness of Parkinson's and research into the impact of creative activity. So, we applied for the funding and were very fortunate to be granted that. 
"This led to the show being established I suppose, and from there it's evolved to where I'm proud to say we've got a huge range of artists from many different countries around the world participating.
"We also recently started the Parkinson's Art Academy, and the idea that it's really to give people experience of the different types of arts, because most people's last experience of doing art was probably back at school. We are trying to bring the art to everybody – to make it more reachable and to promote the benefits of arts to people as well.
"There is a whole raft of new courses from the 1st of September – on the online Academy there is the painting courses, painting, poetry courses. We've now got writing novels – A course which is great, and some new advanced poetry. We what we plan to do more courses which include working with clay and photography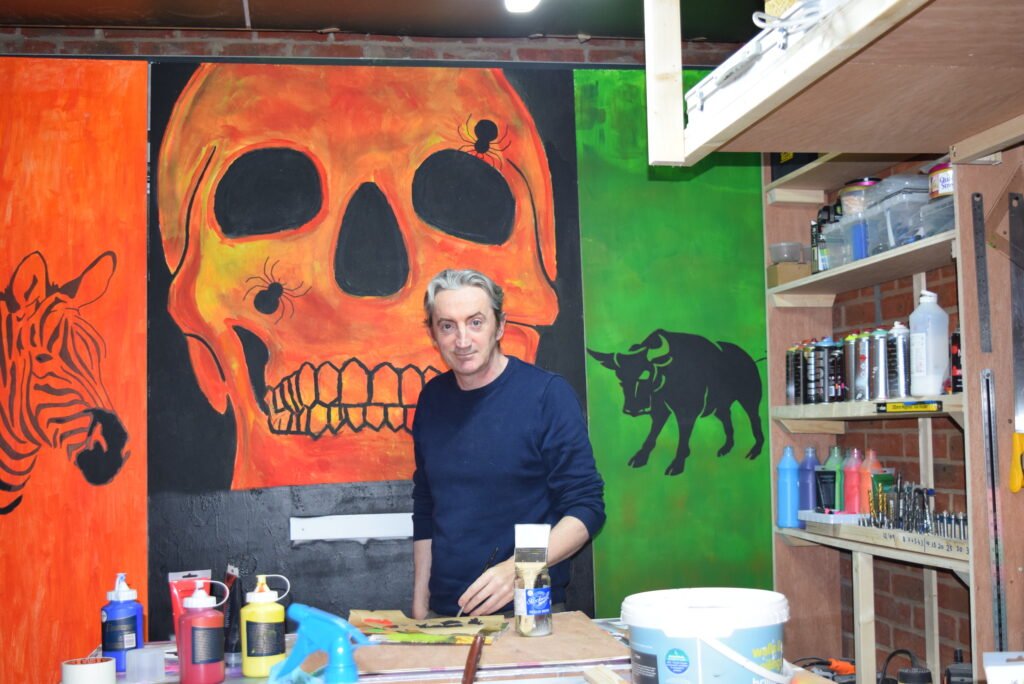 "Really that there's two parts to it. There's those short online courses, but we also want to reach out to the community because lots of people have creative skills out there who could potentially lead a course, or have got some skills to share in the community. So we're looking for people to do the course, and also to lead future courses. 
"The idea behind Vivid Dreams? Well I've been living with Parkinson's for 10 years and one of the symptoms which I have a lot is vivid dreams and and it's always stuck with me. I'm not sure why, and it just kind of evolved from the kind of early stage. We explored a couple of ideas and possible themes for the exhibition and this one really stuck and it kind of grew and well here we are today!
"When people walk through the door they will see something a little different the mannequins! We chose eight artists to select a blank mannequin and to create their own art. To tell their story. The mannequins there to kind of really tell individual stories, that helps to bring the overall exhibition to life.
"There are paintings, of course the manniquins, poetry from our recent competition and a series of short films as well – a really exciting mixture."
Vivid Dreams is on at The Oxo Gallery, London from the 18th – 29th of August – please see Parkinson's Art website for full information and the Virtual Gallery